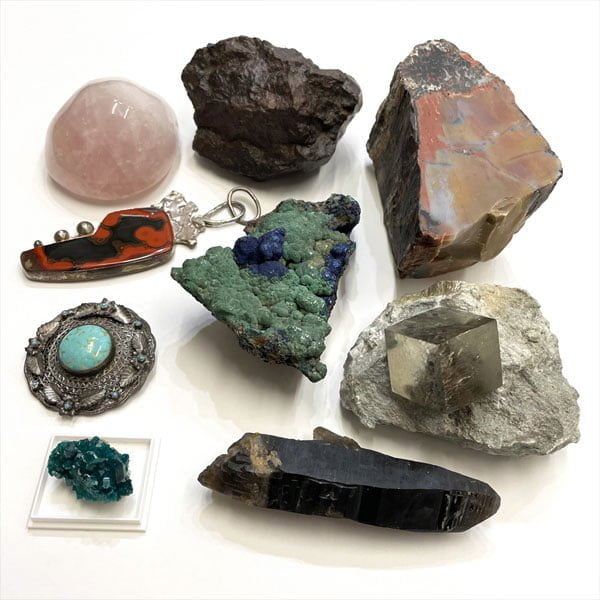 BLACK FRIDAY SALE
Save 10% sitewide + FREE SHIPPING
Use coupon code bLACKFRIDAY
Georarities is the premier shop for quality crystals, minerals, fossils, and meteorites in the Cincinnati, Northern Kentucky and South-Eastern Indiana region. We offer rough, polished, and crystal healing items as well. Shop online or in-person.
Studio closed for in-person visit Thanksgiving day, but we reopen on Black Friday. Shop our online store 24/7 365 days a year?
---
Featured Articles from our Blog
Jade is a beautiful and highly desirable material. It's valued for the fabulous and magnificent works of art that are created from it, and for the deeper meanings people attach to it. In different periods of Chinese history Jade was associated with heaven, as a symbol of authority. Confucius used jade into a metaphor for virtue, […]
Join Our Mailing List To Get Updates on Sales & New Stock
By clicking "Join Our Mailing List", you agree to share your email address with the site owner and Mailchimp to receive marketing, updates, and other emails from the site owner. Use the unsubscribe link in those emails to opt out at any time.
---
Now Open For Walk-in Visitors
Call Us! (310) 502-1857
Open Mon-Sun 2:30 PM – 6:30 PM
Essex Studios Building at 2511 Essex Place, Cincinnati, Ohio 45206
GeoRarities.com | Dealers of Fine Minerals, Crystals, Meteorites, Stone Sculptures, Paintings, Art, Fossils, Petrified Wood, Healing & Therapy Stones
GeoRarities.com is OPEN 24 hours a day for you to make online purchases! We will ship your purchases with limited contact!

We search the world for the best and most interesting rare and fine minerals, crystals, meteorites, fossils, healing & therapy & metaphysical stones and rocks, as well as Stone Sculptures, oversize rare boulders, geo rocks, paintings, multimedia and art!

To navigate our website please hover your cursor over a rock's picture to see the price. Click the picture to see the description.


Monumental Sculptures of Jade, Chrysocolla with Turquoise veins, Petrified Wood, Rainbow Calcite, Jasper
We select spectacular Siberian Russian Jade, Chrysocolla, petrified wood stumps, boulders, chunks and slice specimens. We cut and grind them to our designed form, then polish the pieces. They usually end up on custom designed stands for ideal display. Our sculptures run large to monumental and can be used as display art and focal points in a room, garden, hardscape, landscape, to a public display location.Visit our other website to see monumental stone sculptures: https://modernstonesculpture.com/


Tell me the difference between a Mineral, a Rock, a Crystal and a Gemstone?
In short, a mineral is a naturally occurring substance that is formed through geological processes. Minerals have a characteristic chemical and physical composition, particularly a highly ordered atomic structure that is normally crystalline. A rock is an aggregate of minerals and does not need to have a specific chemical composition. A crystal is a solid whose atoms are arranged in a 'highly ordered' repeating pattern. These patterns are called crystal lattices. If an object has its atoms arranged in one of seven crystal lattice patterns, then that object is a crystal. A gemstone is a highly attractive and valuable piece of cut and polished mineral that is used in jewelry or other decorations. Some rocks such as Lapis Lazuli and organic matter such as Amber also classify as gemstones.Many of our specimens are oversize, large and sometimes huge. This makes them ideal for decorative use by interior designers, landscape and garden architects and collectors of large specimens.


Healing Crystals, Spiritual, Chakra and Metaphysical Stones
For eons people have utilized the power of healing stones and crystals to release mental, physical and spiritual blockages, thereby facilitating the free flow of energy in the body. We offer a wide variety stones, crystals and wands.Thanks for visiting our website.