Located in east-central near the town of Irvine is Knob's Region, a "u" shaped arc extending for nearly 230 miles that is home to Kentucky agate, the officially designated state rock of the Commonwealth of Kentucky. Highly collectible, Kentucky agate is a beautiful form of agate particularly known for it's deep red and black hues.
Agate is typically a chalcedony (silicon dioxide) variety of fine or microcrystalline quartz nodule or concretion that may contain banding, mottled or variegated coloring. While most agates from in igneous rocks, Kentucky agate is one of the rare exception that forms in sedimentary rocks, a list which also includes Montana agates and Fairburn agates in the Black Hills.
Kentucky agate tends to be prone to cracking, finding quality specimens without cracks tends to be a challenge, making specimens used in jewelry that are free of the cracks particularly prized, collectible and expensive.
We offer a wide variety of both agates and Kentucky agates for sale on our website, and we have an even wider selection in our studio/gallery including the beautiful black and red pendant below which is our own creation .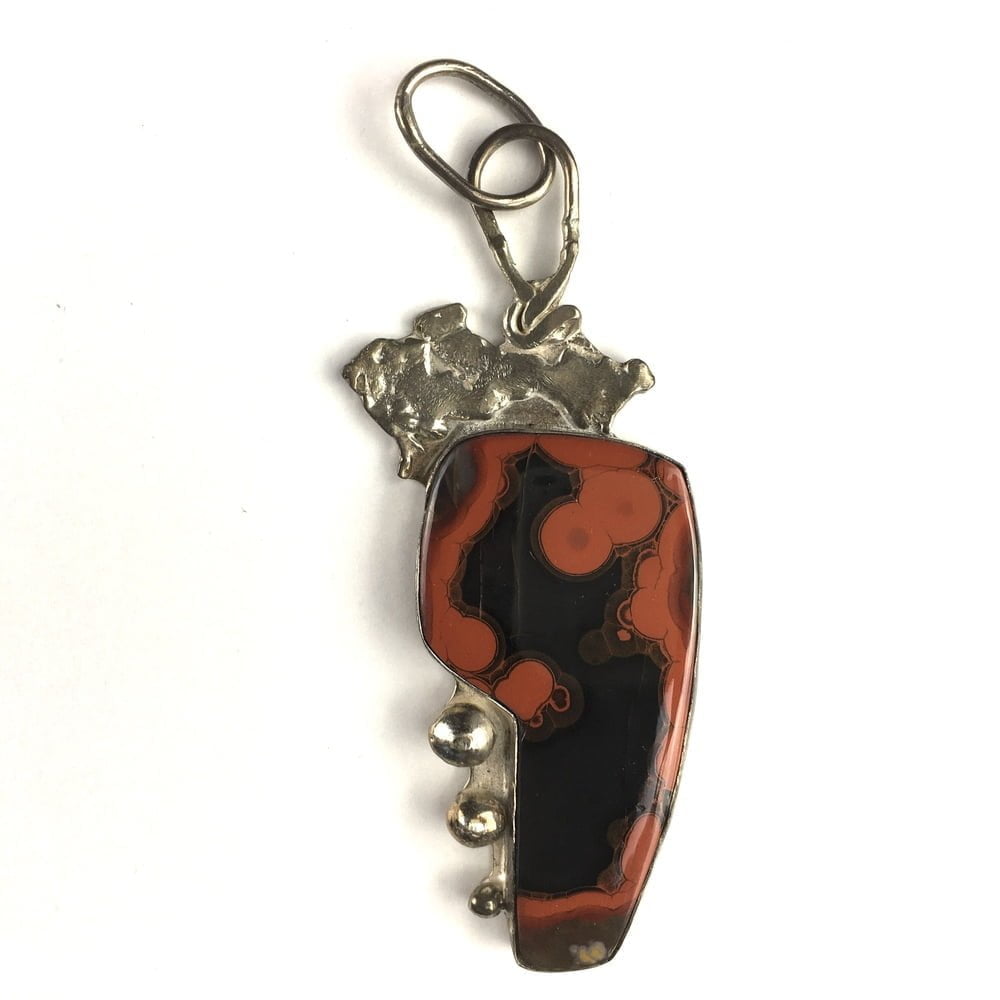 Kentucky Agate is often used in jewelry such as this beautiful Red on Black Kentucky Agate Pendant. Note the micro cracks in the stone which is common with this variety of agate due to how it forms.
Agate nodule displaying reds, blacks and yellows. Note the micro cracks. From Estil or Powell County, Kentucky. Photo By James St. John – Agate (Borden Formation, Lower Mississippian; eastern Kentucky, USA) 6, CC BY 2.0, https://commons.wikimedia.org/w/index.php?curid=82926380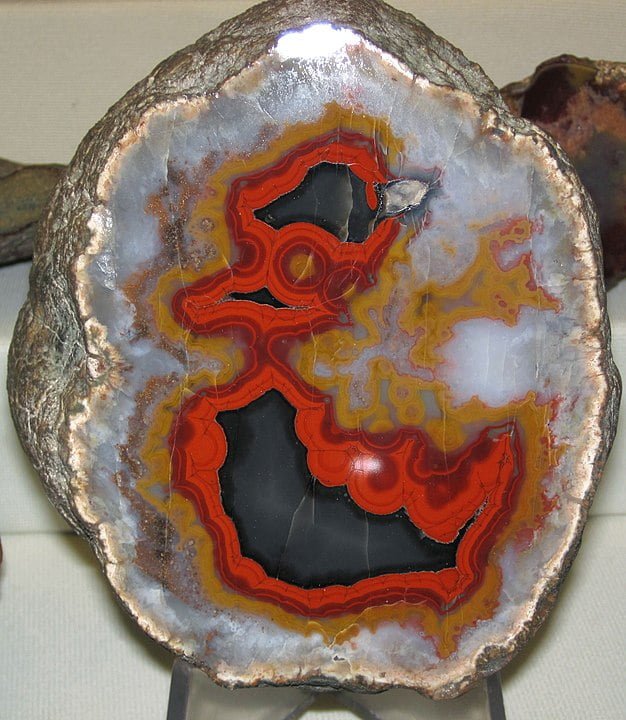 Agate nodule from Kentucky with dark reds, orange, black and whites. Photo by James St. John – Agate (Borden Formation, Lower Mississippian; eastern Kentucky, USA) 12, CC BY 2.0, https://commons.wikimedia.org/w/index.php?curid=82926386
Agate nodule from Kentucky, USA, photo By James St. John – Agate (Borden Formation, Lower Mississippian; eastern Kentucky, USA) 13, CC BY 2.0, https://commons.wikimedia.org/w/index.php?curid=82926390